"One can feel sorry for anyone who missed this" – press review for Berlin Recital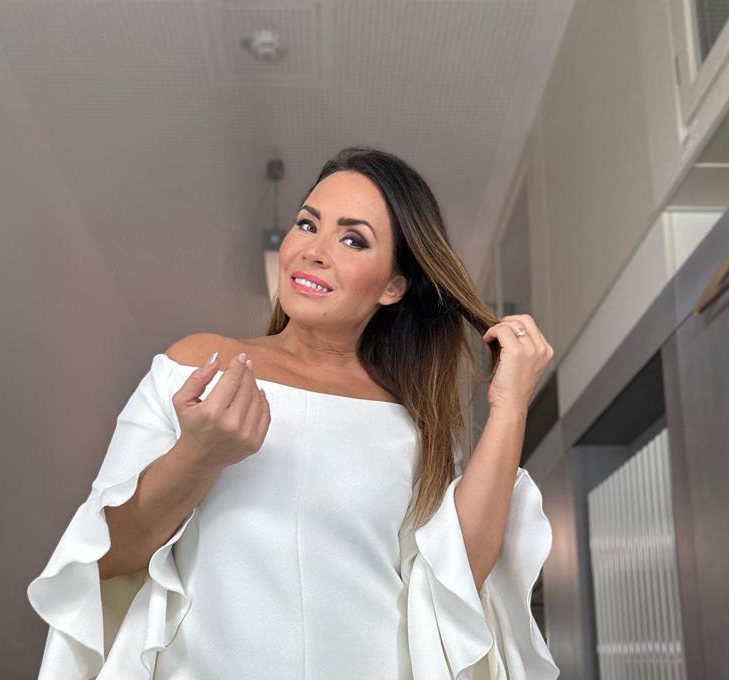 Sonya Yoncheva gave an acclaimed recital at the Berlin Staatsoper Unter den Linden on November 27 with her program "Ad una Stella" accompanied by Malcolm Martineau. The press is entusiastic about the evening as well, with Berlin's two most important newspapers, Tagesspiegel and Berliner Morgenpost having published rave reviews:
"Recital with Sonya Yoncheva at the State Opera: One can feel sorry for anyone who missed this
The Bulgarian soprano is currently one of the best singers alive. She proved this again during her recital in Berlin.
Even though it has become winterly cold on the Unter den Linden boulevard: Sonya Yoncheva needs no running-in phase, no warm-up, she enchants from the first moment. The Bulgarian soprano is giving a recital at the Berlin State Opera, and with the opening note of Giacomo Puccini's "Sole e amore", this voice is completely there, in all its fullness and splendor, fiery, organically and confidently formed, it is a force and a pure pleasure to listen to.
Italian composers are not the first ones that come to mind when it comes to song, and in this respect too, the evening opens up all the senses. Puccini wrote eleven compositions for piano and voice, Yoncheva brings their inherent drama to life and effortlessly reaches the top notes. This woman is, alongside – yes still – Anna Netrebko, one of the best singers of all time.
She is discreetly accompanied by Malcom Martineau, who charmingly takes advantage of every piano solo opportunity; In the lovely "L'ideale" by Paolo Tosti, the striking main melody, which oscillates between longing dreaminess and tender hope, is written for the piano alone. The three songs by Giuseppe Verdi ("In solitaria stanza", "Ad una stella", "L'esule") that are being heard that evening cannot hide the opera composer at all; they constantly seem to break out into an aria, the last one even has the classic Italian division of arias into Cavatina and Cabaletta.
The best comes at the end
(…) After the intermission, "real" opera arias by Puccini are being proposed. Yoncheva slips into roles like into dresses: as Tosca in "Vissi d'arte" she embodies a woman in an absolutely exceptional situation with a desperate but still razor-sharp voice, as Mimì in "La Bohème" she embodies a terminally ill but still smiling creature, as Cio-Cio-San in "Madama Butterfly", a tragic lover who stands on the shore and imagines the return of the loved one, who is a phantom – and almost seems like Wagner's Tristan, who is waiting for Isolde's ship."
The best part, however, comes at the end, with the encore: Sonya Yoncheva can switch the lever at will, now she is no longer an abandoned person, but an abandoner, Bizet's freedom-loving Carmen, and how in the Habanera she not only beguiles the colleague at the piano who turns the pages, but also Martineau himself so much that he can hardly play during this moment – that makes one feel pity for everyone who missed this evening."
Udo Badelt, Tagesspiegel
____________________________________________________________
"With star soprano Sonya Yoncheva, everything sounds so easy
Berlin. The Bulgarian opera singer Sonya Yoncheva gave a song recital at the State Opera for an enthusiastic audience of connoisseurs.
Sonya Yoncheva gives a recital at the Unter den Linden State Opera. The tickets are not expensive at all – given that the Bulgarian soprano has been one of the most celebrated opera singers worldwide for years. Judging by the fact that each of her last solo appearances in Berlin was a musical gem. And considering that she is also no stranger to the State Opera audience (Cherubini's Médée). (…)
… her brilliant accompanist on the piano, the Scot Malcolm Martineau. In the first Puccini song "Sole e amore" he stands out because he is inconspicuous. This inconspicuousness appears with the highest level of competence in the form of a finely chiseled, bright, and detailed playing. Martineau doesn't have to provide the main line in this musically colorful depiction of the soul landscape – Yoncheva does that. It gives her lines an inner movement. Later, with intensive, songs by the later Giuseppe Verdi, this distribution of parts in this wonderful sound mix will change fundamentally; now Martineau is the man for the soft sound carpet. The evening remains exciting, especially if you pay attention to the eventful musical interaction between the two.
No coughing blurs the aura of the singing during this concert
But also by focusing exclusively on Yoncheva one doesn't miss anything. And the audience proves itself to be an explicit song audience by doing just that. Even in this time of colds, no cough in the audience blurs the aura of the 41-year-old Bulgarian's singing, even in the song by the historical-romantic singer Paolo Tosti "L'ideale" with its pianissimo middle section "E ti senti ne la luce, ne l' aria", Yoncheva's somnambulist balance of vocal line and articulation can be understood consistently and precisely.
When you listen to Yoncheva perform the Wagnerizing Giuseppe Martucci, the hyper-romantic-atmospheric Puccini, and the passionate Verdi, you don't automatically remember that what sounds easiest from a musical and technical point of view is always the most difficult, presented with the most intense artistic intention. With Sonya Yoncheva everything sounds easy, presented directly from the depths of her soul. It requires a mental step to grasp the extraordinary nature of this singing.
But you don't necessarily have to do that and you can also just enjoy the star's charming diva-like acting in the diligently applauded Carmen encore."
Matthias Nöther, Berliner Morgenpost
____________________________________________________________
AD UNA STELLA – SONYA YONCHEVA AND MALCOLM MARTINEAU AT THE STATE OPERA UNTER DEN LINDEN WITH AN EMOTIONAL RECITAL
It is always something special to experience an opera star not in a role, but in the intimate atmosphere of a recital – and sometimes more than "just" special.
November 27, 2023 is a cold winter evening. Fine snow dances from the Berlin sky as I sit down expectantly at the Staatsoper Unter den Linden. The orchestra pit has disappeared under the stage, where the grand piano shines alone.
Sonya Yoncheva enters the stage with her pianist Malcolm Martineau as unpretentiously as the simple stage setting, a bright screen onto which light is cast in a satin-like pattern.
She seems so approachable that I can't help but think of the videos she posted on Instagram during the first Corona lockdown, in which she sang from her kitchen to an audience that, like her, was sitting at home and didn't know what would happen next.
This is exactly Sonya Yoncheva who is now on stage: no lavish evening dress, no sparkling jewelry, no elaborate hairstyle, no glamorous make-up.
Sonya Yoncheva doesn't need to collect herself, doesn't need to create tension. She doesn't wait with her eyes down before beginning, no, she simply sings Puccini's "Sole e amore" and has caught her audience before the first note is sung.
Devotedly and virtuosically accompanied by a visibly in good spirits Malcolm Martineau, Sonya Yoncheva leads us effortlessly and full of emotion through songs and arias by Italian composers of the late 19th and early 20th centuries, showing with her voice the entire range of human emotions across all registers, paired with an enormous richness of vocal colors.
Every note is perfectly placed and filled with sparkling overtones that make you think the house isn't big enough to contain this voice.
Sonya Yoncheva remains as unpretentious as her appearance every second. Humble and connected to her audience in a way I have never experienced in a recital before.
And perhaps what makes this evening so incredibly special is that there is a woman on stage whose big heart you can notice on stage, who continually seeks and finds eye contact with her audience. She sings the songs and arias in a way that doesn't need words, because the energetic dialogue that Sonya Yoncheva has with us allows you to understand exactly what it's about at every moment.
At the end of the recital, "Un bel di vedremo" reveals, as a kind of treat, that next February we will probably experience a different Cio-Cio-San on this stage than the usual Cio-Cio-San in Puccini's Madama Butterfly: one sung more courageously with more facets.
After a deserved minute-long standing ovation and two encores, Sonya Yoncheva finally says goodbye with "Adieu, notre petite table" from the opera "Manon", but not without first assuring "this is a good-bye, not an adieu".
I cried a lot that evening. And I leave the State Opera filled with happiness that will resonate in my heart for a long time.
Heike Franke, Operaversum
"Sonya Yoncheva, supernova of the Bordeaux season"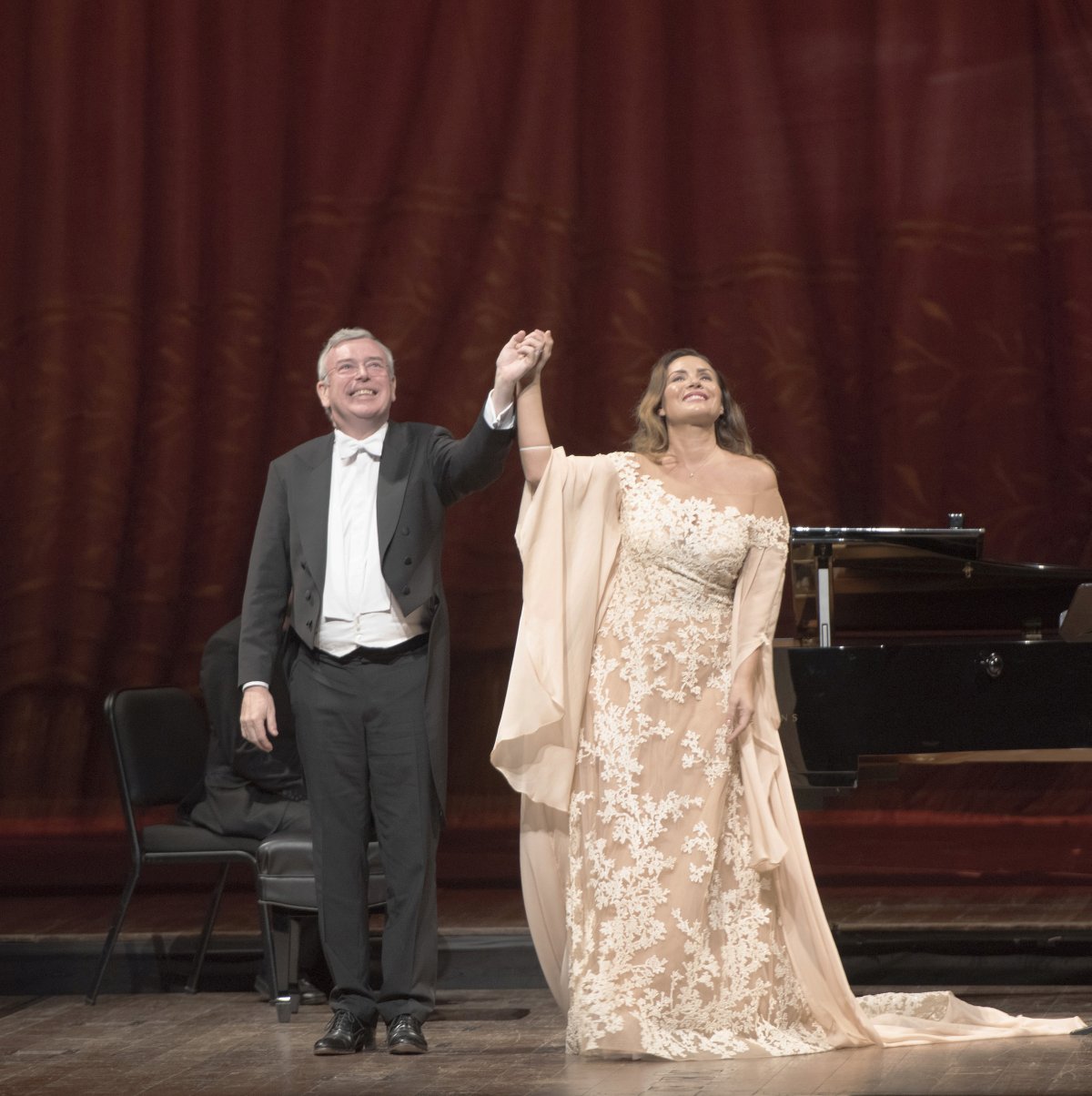 Sonya Yoncheva brought her recital program Ad una Stella to the Opéra de Bordeaux in November. Here below you can read what the press said:
"Sonya Yoncheva, supernova of the Bordeaux season.
Bulgarian soprano Sonya Yoncheva returns to the Opéra National de Bordeaux for an exceptional recital, accompanied on the piano by Malcolm Martineau:
During her last visit to Bordeaux, she performed in the Grand-Théâtre. As the latter was busy preparing Rusalka, it was at the Auditorium that fans of the amber voice of one of the international icons of opera singing gathered.
Ad una Stella ("to a star", in English): the title of this recital is taken from one of Verdi's melodies, which resonates throughout the concert. But it could just as well describe the evening's headliner, for Sonya Yoncheva is one of the stars of opera singing. Tosca in Verona, Madama Butterfly at the Vienna Staatsoper, Norma at the Met in New York: line 2023 of her CV alone would be enough to fill that of any of her fellow singers, and even make her a little jealous…
(…)
For the occasion, the Bulgarian soprano has compiled a program that is as musicologically interesting as it is vocally astonishing. Composed exclusively of melodies in the first half, it gives pride of place to opera arias after the interval. This is an opportunity to admire a few rare gems from 19th-century Italy (all sketches for their great arias, in which we recognize Verdi's late Bel Canto and Puccini's nascent absolute lyricism), before returning to the great classics ("Vissi d'arte" from Tosca, "Un bel di vedremo" from Madama Butterfly, "Donde lieta usci" from La Bohème, among others).
There were two Sonya Yonchevas this evening. In the first part, which is certainly dotted with a few high notes, but which emphasizes the passages between registers (head voice, supported mixed voice, chest voice), she shows great technical intelligence, not hesitating to favor a fearsomely effective spinto to save the fullness of the timbre, and conserve energy for the formidable peaks of the second part. (…) A few exceptions to this method are all the more noteworthy, such as Paolo Tosti's Ideale, in which Sonya Yoncheva's velvety midrange sends a soft glow through the entire hall.
Returning after the interval, the audience is prepared for a great thrill at the mere reading of the program. From the first high note of "Se come voi piccina" (Le Villi), the voice fills every corner of the auditorium, which becomes the tuning fork to which the emotion is tuned. This second, shorter part visibly spreads a permanent shiver through the auditorium, each climax triggering the next in a sound-saturated musical space where the soprano's amber timbre unfolds. Her perfect technical mastery allows her to freely emphasize every inflection of the line, even with a movement of her arms, as well as to turn towards the galleries to let each spectator benefit from the direct impact of her voice."
Olivier Delaunay, Ôlyrix
"To rapturous applause, she took to the stage in a superb mauve sheath dress, thanking the Bordeaux audience in French for their warm welcome. The enthusiasm she generates in this very special (and delicate) Italian Canzone repertoire is unmistakable, and her unique, rich timbre and gentle vocal inflections allow her to touch the heart. Here, variations of breath color the notes, and works such as Puccini's "Terra o mare", Martucci's "L'Ultimo bacio" and Verdi's "L'Esule" benefit from her perfect verticality and ardent voluptuousness.
But it's in the Puccini opera hits of the second half of the evening that the audience most loudly expresses the voluptuous pleasure inspired by La Yoncheva's vocal artistry. Whether in the famous "Vissi d'arte" and "Un bel di vedremo" or the rarer "Se come voi piccina" from Le Villi, the Bulgarian soprano displays all her verismo savoir-faire, and a voice with Callasian reflections: breath length and power are here as skillfully mastered as they are calculated, to trigger a lively emotion in the listener's soul. And she delivers each of her operatic arias with her usual dramatic and/or emotional intensity, viscerally embodying each of the characters she interprets.
The ecstatic Bordeaux audience cheered loudly and long for the Bulgarian diva, who offered three arias as a reward for her rightful exaltation: "Oh mio babbino caro" from Gianni Schicchi, the Habanera from Carmen, and the sublime aria "Adieu notre petite table" from Manon, in which she overwhelms both by the accuracy of her accent and the shapeliness of her vocal material.
As for Malcolm Martineau, her faithful accompanist when she offers voice/piano recitals, he demonstrates his undivided attention and complicity with the artist, who also shows off his talents as a "solo" pianist with a brilliant interpretation of Isaac Albeniz's Tango en Ré. Bravo to him too!"
Emmanuel Andrieu, Classique News
"On the eve of to the premiere of the new production of Rusalka staged by the Le Lab duo – Jean-Philippe Clarac and Olivier Deloeuil – conducted by her husband, Domingo Hindoyan, Sonya Yoncheva gives a recital at the Auditorium, in a program of Italian melodies and arias. Malcolm Martineau accompanies her masterfully on the piano.
Sonya Yoncheva is one of the great voices of the moment, with a touch of glamour in both timbre and presence. The fuchsia satin gown in which she enters the Auditorium stage will not contradict her. However, the recital program, entirely Italian, which she has already performed some thirty times, and which makes a stopover in Bordeaux on the eve of the premiere of Rusalka conducted by her husband Domingo Hindoyan, does not seek the spectacular. A lesser-known facet of the output of nineteenth- and early twentieth-century transalpine composers, the canzone, a variation in Garibaldi's homeland of the German lied and the French mélodie, brought lyrical emotion into the salons. These are often brief pages, focusing on the color of a feeling – which the Bulgarian soprano contrasts in the four Puccini pieces opening the evening. Martucci's melody and the two by Tosti, including the famous Ideale, breathe a simplicity here and there discreetly affected by refinement. Verdi's three numbers reveal a sense of expressive élan: like the preceding scores, they serve as a showcase for the soloist's meaty, almost luscious timbre… .
After the interval, Sonya Yoncheva returns in a white tunic with a gemmelled neckline in a neo-antique Directoire or First Empire style, for a condensed version of Puccini arias. Of course, Le Villi, an early opera, is hardly ever staged these days. An avatar of Gautier and Adam's Giselle, the character of Anna has passed into posterity with "Se come voi piccina", which the greatest sopranos have included in their repertoires. This youthful evanescence is matched by Tosca's ardent prayer, "Vissi d'arte", delivered with a dramatic intensity that draws inspiration from, but does not reduce itself to, great models such as Callas. If the diva makes the fragility of Mimi – in La Bohème – bend a little under the fullness of her vocal emission, she proves ideal in "Un bel di vedremo" from Cio-Cio San. Butterfly's infinite hope palpitates in the fervor of her singing: her familiarity with the role on stage is revealed in this quintessential performance of one of the most moving operas in the history of music.
An interlude for solo piano in the middle of this second part, Albeniz's Tango in D major, with a pulse calibrated for a solar elegance that must not have been displeasing in the salons, bears witness to the alchemy flowing from the fingers of Malcolm Martineau, a benchmark in vocal recital accompaniment who knows how to condense the orchestral ribbon with exceptional fluidity. The osmosis with Sonya Yoncheva is confirmed in the two encore performances: Lauretta's lament in Gianni Schichi and Carmen's Habanera, expected of a voice with a rich medium that confirms the impression that, rather than chiseling the words, she favors a certain immediacy of sensuality and feeling. In the precise acoustics of the Auditorium, this high-fidelity emotion can blossom to perfection. The soloist and the audience won't deny it.
Gilles Charlassier, Classic Agenda
"A great week at the Opéra de Bordeaux for opera lovers! On Tuesday, diva Sonya Yoncheva enchanted the Auditorium with Puccini's great arias. And the following day, her husband, conductor Domingo Hindoyan, revealed all the beauty of an opera never before performed in Bordeaux, interpreted by the ONBA with great poetry."
François Clairerant, Sud Ouest
[Photo: Foto Arnaldo / Teatro Colón 2023]