The press raves about "Rebirth"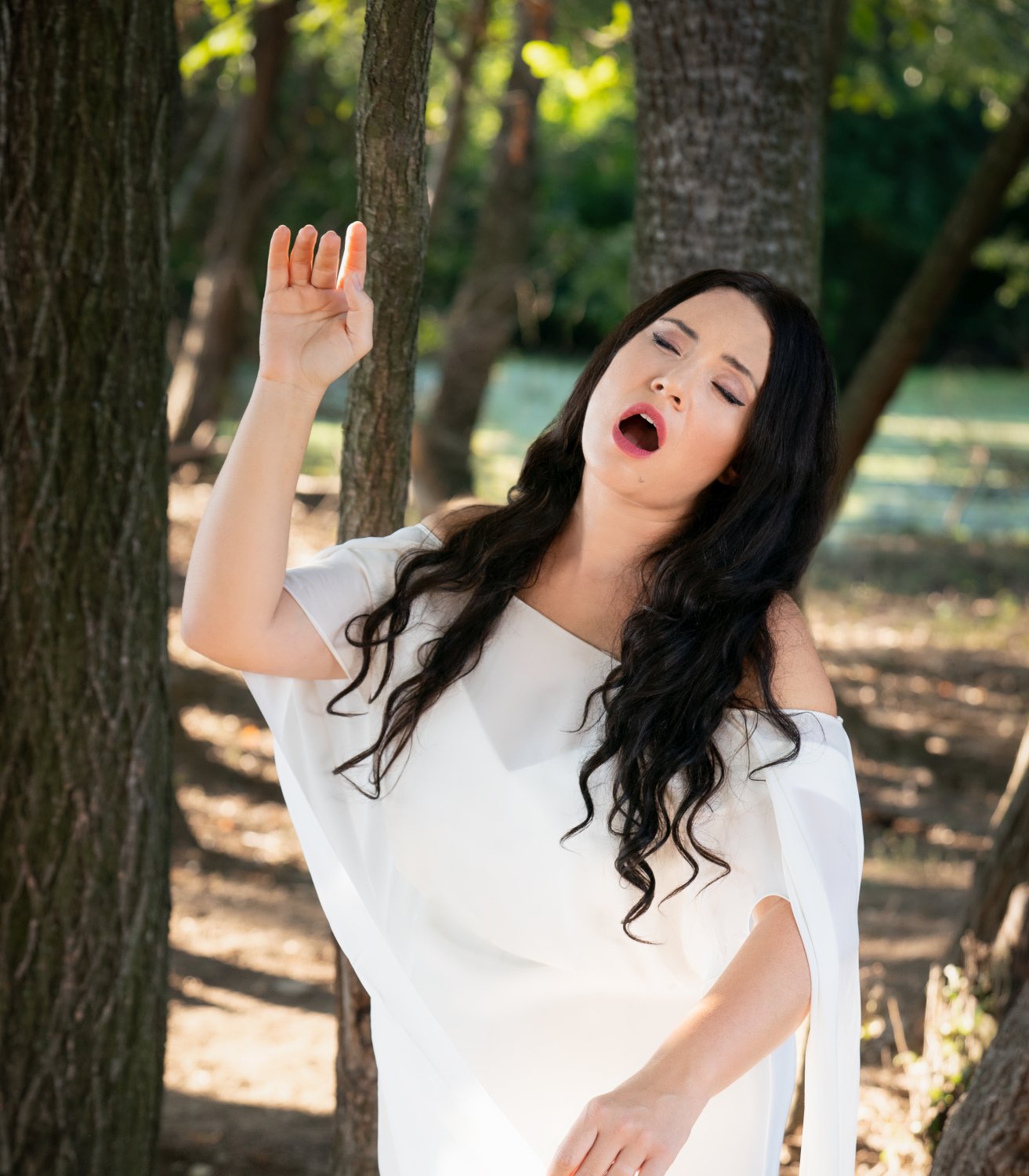 Sonya Yoncheva's latest album "Rebirth" (Sony Classical) is receiving unanimous accolades by the international press. According to The Times, the album "makes old music sound new", Audio finds it "phenomenal how touching" Sonya "is singing Monteverdi or Dowland", while Stereo praises the recording as "vocally impressive" and "deeply touching". Here is the complete press review (as of April 6, 2021):
"… the voice of the glamorous Bulgarian Sonya Yoncheva couldn't be warmer. … it's hard to dislike any album that takes such delight in personal expression and makes old music sound new."
Geoff Brown, The Times
"The Bulgarian opera singer with the powerful, sweet- soprano voice has fulfilled her most personal wishes here, and sings arias, songs and, well, an Abba song.
But one doesn't immediately notice that it is by Abba, the gentle accompaniment with harp, flute and strings leading the listener into completely different realms, leading back to the beginning of the album, to the beginnings of opera, to its inventor and first grandmaster Claudio Monteverdi , to his master colleagues Francesco Cavalli, Alessandro Stradella, to their genius, to forminging a self-confident artistic aria out of a funeral chant, which grows beyond itself in the singing and pulls the listener with it. This also corresponds to the whole project that Yoncheva realized with the Baroque music specialist Leonardo García Alarcón. The idea stems from the time when she studied with him in Geneva and made her debut in the title role of Monteverdi's "L'incoronazione di Poppea". Yoncheva then followed with a great operatic career, extensively and successfully, commuting amongthe Met, La Scala, the Royal Opera House and the other great theaters of the world. There was hardly time for tender lute songs like "The Silver Swan" by Orlando Gibbons. But now, in lockdown, as she reports, she remembered her beginnings, youthful visions and preferences. Her visions include the idea that music is timeless, conveys a "feeling of limitless freedom" and could be a "wake-up call for rebirth, for renewal". That is disarmingly naive and wonderfully escapist, and if esotericism always produced such wonderful musical performances, one would only shop at Sternenkreis, Hexenladen, Abraxas, Jupiter Spirit and Healing Mentor.
Helmut Mauró, Süddeutsche Zeitung
"… Yoncheva is overwhelming as a Baroque singer with certain advantages – especially in the many ballads on the album. She starts these ballads with a brittle tone that gradually gives way to the powerful sound of the Verdi soprano Yoncheva as feelings increase. Lamentations of grief mutate into self-empowerment singing, which is especially gripping to hear in the arias by José Marin and Leonardo García Alarcon. The bitter sweet encore: The ABBA ballad "Like An Angel Passing Through My Room", discreetly arranged and at the beginning a little related in its melody to the final duet from the "Rosenkavalier". "
Wiener Zeitung
"An arch to today's Pop music
Rebirth of the siren
Sonya Yoncheva can be mother and tigress, ruler and mistress, she is brilliantly absolutist, with dashing high Cs, but also of feminine translucent softness. She lets the stream of tones flow, unobtrusively interrupts her cozy legato, can safely withdraw from the piano, loves, suffers… . And yet she is always a wonderfully feminine, warm-sounding woman.
She was born in 1981 in Plovdiv, Bulgaria. The mother made an early decision that she and her younger brother Marin should become artists and put all the money into grades and tuition. At the age of fifteen, Sonya discovered her great musical potential. After completing her concert exam as a pianist and singer, she moved to Geneva at the age of nineteen, where she studied until 2009. Sonya Yoncheva had already presented her own TV show as a young talent and won a national television competition with her brother; and this led to appearances at the side of pop musicians like Sting and Elvis Costello. In the "Jardin des Voix", William Christie's graduate platform, she was initially formed as a baroque singer.
After winning the Operalia competition organized by Plácido Domingo in 2010, however, the doors of large opera houses were suddenly open to her. In 2012 Sonya Yoncheva had her breakthrough in France, with two roles as different as Monteverdi's Poppea and Donizetti's blood-soaked bel canto fairy Lucia di Lammermoor. She experienced a great success in 2013 at the New York Met, where she was engaged as Gilda in "Rigoletto"; the following year she made her debut there as Mimì in "La Bohème" and as Violetta in Verdi's "La traviata". With this role she achieved her international breakthrough, she inspired enthusiasm in Munich, Berlin, at the Teatro Real in Madrid, at the Milan Scala, the Vienna State Opera, the Royal Opera House, Covent Garden, in London and at the Opéra national de Paris.
She conquered the Russian repertoire such as Tchaikovsky's "Iolanta" and "Eugen Onegin", but also the difficult bel canto roles of Bellini such as Norma and Imogene in "Il pirata", Cherubini's "Médée", Verdi's "Luisa Miller" and Tosca. Her hunger for roles is great. No wonder the opera world longs for her. The Bulgarian sang for the German President at Christmas, followed by an internet concert that was postponed several times on February 27th: As part of the streamed soloist series of the closed New York Metropolitan Opera, she performed in the library of the Swabian monastery Schussenried.
"The reason for the previous change of date was a protracted bronchitis that deprived Yoncheva of her debut as Wagner's Elsa in the new "Lohengrin" of the Berlin State Opera. And of course she, who was able to establish herself as an international opera star in a short time and lives with her husband, the conductor Domingo Hindoyan, and two children near Montreux and in Berlin, has also suffered from many other canceled appointments since March 2020. But one, a very special one, took place. Last summer at the Salzburg Festival. And it was like a rebirth for her: This is why her latest CD with the repertoire recorded in the middle of the pandemic is entitled "Rebirth".
Songs and arias of the Renaissance and early Baroque, this intimate as well as intense music, are included in the dreamy, deeply relaxed, but also spiritual album, which not only celebrates and unites the European renaissance from Spain to deep in the East. With wonderfully pliant partners, she came out of isolation to the studio and soon returned to the podium: with the Cappella Mediterranea under the inconspicuously intense Leonardo García Alarcón. The Argentine was already her teacher at the Geneva Conservatoire.
"For me, this music is a bridge from the history of a distant repertoire past to today. There is something immortal and timeless about it," says Yoncheva. It stirs up and soothes, with gently sparkling melody jewels by Alessandro Stradella, Claudio Monteverdi, Francesco Cavalli and Antonio Caldara, but also with Spanish (even contemporary) and English by Orlando Gibbons and John Dowland. Sonya Yoncheva sings like a beautiful indifferent person and is still totally enraptured.
"The idea for this project is eleven years old," says the soprano about the motivation behind this project, "when I was still indulging in my experiences with old music. But then my career started and I always had other singing projects. But I really wanted to return. Because I see myself as a universalist, not as a specialist who only does what she does best. "
She sounds best in an endlessly spinning Bulgarian tone line. Finally she spins the link into today's pop, with the Abba song "Like an Angel Passing Through My Room", in Baroque style. She can do it and is allowed to do so. Because Sonya Yoncheva has one of the most sensual soprano voices in the opera world. She sends out her dark and bright siren tones dark. And doing so catches every Odysseus.
Sonya Yoncheva sings like a beautiful indifferent person and is still totally enraptured."
Manuel Brug, Die Weltwoche
"The Bulgarian soprano Sonya Yoncheva has chosen a wild mix of Baroque music. However, with a slight amazement, one is happy to comply with her urgently performed request to follow her to Italy, England, Spain, Bulgaria and, with Abba, even to Sweden."
Thomas Brasch, Tagesspiegel
"CD tip"
"Opera star Sonya Yoncheva fascinates on the new CD with poignant music from the Baroque to the present.
Sonya Yoncheva, born in Plovdiv on Christmas 1981, is arguably the world's most famous Bulgarian woman currently. The soprano has been celebrated on all major opera stages over the past five years, at La Scala in Milan, at the Met in New York, in London, Paris, Berlin, Salzburg and in the Verona Arena. Her flawless intonation, the luminous timbre of her voice and her emotional charisma are considered unique. She is a dream cast as Mimì in Puccini's "La Bohème" or as Violetta in Verdi's "La Traviata". For many, she has outstripped the great Anna Netrebko in the meanwhile, although the critics largely agree that the two prima donnas already differ significantly in characteristic details. Yoncheva's spectrum is decidedly broader, which she impressively underlines with her fourth solo CD, which has just been released by Sony. The masterpiece has been in stores since Friday.
After her debut "Paris mon amour", a Handel and a Verdi album, she traveled even further in music history with "Rebirth". Some pieces date from around 1600, when Claudio Monteverdi and Francesco Cavalli shaped the still young genre of opera in Italy. She sings parts from "Poppea" and "Serse", as well as an aria from Barbara Strozzi's cantata about Heraclitus in love.
In the ear for hours
She masters the style of the early Baroque terrifically, with clear intonation, smooth, without romantic vibrato. The violent affects and emotions that are discussed here go deep under one's skin. She also interprets Gibbons' and Dowland's arias from England of that era as convincingly as if she had always been at home in the Baroque subject. With "Y a tus plantas Nisea" she even jumps into the present without leaving the Baroque style. The Argentine Leonardo García Alarcón, born in 1976, leads the ensemble "Cappella Mediterranea", which accompanies the singer during the recording. Three years ago he reconstructed a fragmentary and preserved Prometheus opera by Antonio Draghi and re-composed the third act. Yoncheva sings Minerva's aria with moving expressiveness.
The most beautiful piece on the CD, however, is a Bulgarian folk song. "With this piece we went back even further, to the Middle Ages and to the tradition of chant and Gregorian chant. In the end, the musicians fell into a kind of trance," recalls conductor Alarcón. The singer gives us goosebumps here, and although "Zableyalo mi agance" only lasts six minutes, this song stays in the ear for hours.
She can even sing ABBA's "Angel"
In the end, the singer even goes all the way to pop music. However, she does not sing "Like an Angel" by the Swedish cult quartet ABBA like a pop radio hit, but also places this soulful little song in a centuries-old tradition. "I want to emphasize the timelessness of music," stresses Yoncheva, "the feeling of limitless freedom that it imminently arouses in people." It shows in a surprising way, she adds, "how similar some musical forms with their deep emotionality and great simplicity have remained for almost 500 years." Nevertheless, the world today needs a wake-up call for renewal, for the rebirth of essential values. With a sense of mission or simply for the joy of heavenly singing – this great recording goes irresistibly to the heart."
Jens-Uwe Sommerschuh, Sächsische Zeitung
"Already the gloomy instrumental introduction to Stradella's Salome aria "Queste Lagrime" makes the listener sit up and take notice of its intensity. The beginning of "Rebirth" creates a concentrated atmosphere that is characteristic of the entire album. The selection of works traces the line from Monteverdi to Cavalli to Stradella and spans the 17th century with occasional visits to Gibbons, Dowland and Ferrabosco. The side trip to meditative Bulgarian folklore (and, well, ABBA) pleasantly surpasses the borders of classical music. One particularly likes to follow the opera star and her travel companion to Latin American regions. The Cappella Mediterranea under the direction of Leonardo Garcia Alarcon is playing in a highly sensitive and extremely sensual way and is at home in all kind of sounds, thanks to its natural musicality. From the bounding flute to the gently grounded organ, both instrumentation and interpretation are convincing. Sonya Yoncheva has a very powerful voice, which also qualifies her for the more difficult Verdi roles. To be able to return to the nonvibrato and fine phrasing of the early Baroque from such a development of tone is vocally impressive. But there is more: it touches deeper and deeper as the album progresses. She succeeds especially in emotional scenes where she lets go of her great voice and surrenders completely to the affect, which works particularly well in "Ojos, pues me desdenais" by Jose Marin, in "Oblivion Soave" (Monteverdi) and with Barbara Strozzis "Üraclito amoroso". Anyone who enjoys Simone Kermes and Christina Pluhar will be positively surprised by "Rebirth"."
Johannes Schmitz, Stereo
"The Bulgarian Sonya Yoncheva currently possesses one of the opera world's most sensual soprano voices. She sends out her both dark and bright siren tones and is at home in many styles from Baroque to Bel canto, Verdi and Verismo. […] She dedicates herself to this music [Renaissance and early Baroque music] on her new, intensive program, which was recorded in the middle of the pandemic. Her wonderfully flexible partner, with whom she returned from vocal isolation to the studio and soon back on the podium: the Capella Mediterranea under the inconspicuously versatile Leonardo García Alarcón. "Rebirth" is the name of the dreamy, deeply relaxed album, which is also full of temperament though, and that does not celebrate only the European Renaissance. Sonya Yoncheva stirs up and soothes, with gently sparkling melodic jewels by Alessandro Stradella, Claudio Monteverdi, Francesco Cavalli and Antonio Caldara, but also with Spanish (even contemporary) and English music by Orlando Gibbons and John Dowland. Sometimes she sings as if she were enraptured as a beautiful apathetic person and is still totally captivating. This works most beautifully in the endlessly spinning tone line of a Bulgarian song. And then at the end she spans to today's Pop music with an ABBA song, arranged in Baroque style: "Like an angel passing through my room". What follows seamlessly: She can do it and is allowed to do so."
Matthias Siehler, Rondo
"In 2013 she made her debut with Verdi at the Met, in 2017 with Puccini at La Scala. Now the terrific Bulgarian soprano Sonya Yoncheva has released an album dedicated to her early career: Baroque music. It is phenomenal how touching she is singing Monteverdi or Dowland – with fantastically delicate, precisely drawn cantilenas that bloom wonderfully in the high register. And the historically informed, highly virtuoso Cappella Mediterranea is now in between even rocking jazz by Simon Dfaz. Even Yoncheva, in a cozy Baroque environment allows herself two excursions: a Bulgarian folk song and the catchy ABBA song "Like an Angel" – alongside the softly chirping lute, of course."
Otto Paul Burkhardt, Audio
"Born in 1981 in Plovdiv, Bulgaria, Sonya Yoncheva had her big breakthrough as an opera singer when she won the Operalia competition in 2010. Performances at the world's great opera houses in roles between Baroque and bel canto followed in quick succession. She was particularly celebrated as Violetta in Verdi's "Traviata" in St. Petersburg, Berlin, New York and other cities. In December she would have made her debut as Elsa in "Lohengrin" at the Staatsoper Unter den Linden, had she not been struggling with a severe bronchitis that ruined these plans for the time being. After her illness, however, her new album was released. It was recorded in June 2020 in La Chaux-deFonds, Switzerland. For her it is like a rebirth, which is how she calls the album: "Rebirth". So the title does not emerge from the lyrics of the arias and songs on this CD. The music she has chosen for this program comes from different eras and countries, so it seems quite heterogeneous. "Mostly Baroque" would also fit as a title, because the vast majority of the titles date from the 17th century: It begins with Alessandro Stradella and continues with Claudio Monteverdi, Francesco Cavalli and Barbara Strozzi. John Dowland is also there, as is one Englishman from Shakespeare's time, Orlando Gibbons. However, Sonya Yoncheva also leaves the Baroque path for a Bulgarian folk song and "Like an Angel passing through my Room" by ABBA. There is even a song by Leonardo García Alarcón, who accompanies her with the Cappella Mediterranea, which consists of only fourteen musicians. The fact that historical instruments are being used results in a slightly rough sound that harmonizes perfectly with Yoncheva's warm soprano. The album begins with "lagrime e sospiri" (tears and sighs), and it continues in this sometimes haunting, sometimes sad, sometimes melancholic style. Her intimate and flawless singing, which goes almost without vibrato, reconciles the listener with the inconsistent program that indeed comes very close to a crossover."
J. Gahre, Das Opernglas
"Sonya Yoncheva's new album begins with gloomy sounds, with early Italian Baroque tears and sighs and subsequently takes us to England. And then we are audibly in Spain, certainly with a Latin American flair. This is followed by a deeply sad folk song from Yoncheva's Bulgarian homeland. And right at the end we end up, yes really, with ABBA. What might seem like a strange hodgepodge works wonderfully as a whole album. Because one usually stays longer at the individual stations and the transitions are subtle and fluid. Without looking at the cover and the booklet all the time, it takes a while for you to notice in which region and in which time you might have arrived. Overall, the calm tones dominate the album. Tears, death and grief are the central themes of the songs. It is a project of silence, as Sonya Yoncheva herself says. Not least because it was recorded last summer under the impressions of the first major pandemic wave and its effects. In order not to make it too dreary, however, there are always small encouraging instrumental pieces interspersed on the CD, played by the early music specialists of the Cappella Mediterranea under Leonardo García Alarcon. In addition to some better-known pieces by Monteverdi, Gibbons or Dowland, there is a lot of unknown music to discover, especially in the Spanish area. Or have you ever heard of José Marin or Tomás de Torrejón y Velazco? At least I haven't. The album is recorded in a very present way accustically. The listener is very close to the interpreters. Which suits the intimate chamber music pieces very much. Sonya Yoncheva sings, appropriate to the predominantly early Baroque repertoire, with finely dosed vibrato and without being too thick in the many mourning numbers. A pleasant simplicity that allows the music to come into its own. (…)
Sonya Yoncheva, who was mainly heard in the great roles of the 19th century, Tosca or Traviata, has returned to her Baroque roots with this album. And with results that are worth hearing. So all in all: a great singer. We already knew that. And with the Cappella Mediterranea a great ensemble. We also knew that beforehand. And it is an album that does not turn out to be – like so many other recitals by opera singers – an arbitrary potpourri of arias. Instead it offers a coherent concept that provides variety and tension despite the mostly calm mood."
HR2 Kultur
"We have already noted that the current health crisis is multiplying the problems but it also allows artists to find what they often lack: time. The long parenthesis they go through thus sometimes give them the chance and the opportunity to give life to recording projects, hitherto set aside. This is the case with Sonya Yoncheva, who was able to use the freed up time to reunite with conductor Leonardo García Alarcón for an album whose idea was born ten years ago! A disc being released this weekend on Sony Classical, reflecting the solar and optimistic character of the artists under the title of Rebirth, symbolizing the rebirth of a creativity – and the creativity of a rebirth -, as well as a message of hope for the one who will eventually arrive after these difficult times. A real "baby" born of the silence in which the opera world has plunged.
The opening of the disc is tinged with darkness and melancholy, with Alessandro Stradella's "Queste lagrime e sospiri", marking the starting point of the journey of rebirth, from the darkest darkness to the light of life. Because rebirth is a real process and for it to take place there needs to be nothingness, a state of death, and from its ashes rebirth will occur. A first aria whose key and very slow tempo once again allow Sonya Yoncheva to shine in her interpretation, the delicacy of the whisper sung, the notes served slowly, giving her intention on each one. The ear is drawn by itself to follow the voice which transmits the depths of the soprano's interpretive nuances, while the talent of Cappella Mediterranea, directed by Leonardo García Alarcón, supports her brilliantly, sets the musical context as the decorations on a stage. Throughout the record, the musicians will also be excellent lighting designers, finding the exact light to make the soprano shine, but also perfect leading roles in the instrumental parts. With O rosetta, che rosetta SV 237 (Monteverdi), the ensemble then completely changes register, a perky and instrumental aside, before Adelante's aria "Ed è pur vero, o core…" from Cavalli's Serse, again more contemplative.
Although Italy is particularly present in this renaissance, as well as the baroque, the record promises a real mix, the meeting of languages, nationalities and eras. Thus, among the composers we find Orlando Gibbons and his Silver Swan, a short song about the dying swan, whose only notes oi his life were those of this sad moment. Spain is also represented, by José Marín and Tomás de Torrejón y Velasco, as is Venezuela with Simón Díaz who also shows the impressive extent of the repertoire defended here, spanning five centuries of music (and which also offers a superb playground for the strings of the whole which express themselves with accuracy, in a beautiful chromatic palette). Let us not forget Argentina championed by the conductor Leonardo García Alarcón who also takes on the role of composer here through the work he has done around Il Prometeo by Antonio Draghi, or the Bulgaria mentioned in a song from its folklore, "Zableyalo mi agǎnce". The reader will easily guess that the singer pours out a plaintive bewitching sensuality , even without understanding the lyrics (it's the story of a weeping lamb, and asking where its mother is).
The voice indulges in the typical accents of local folklore, highlighted by an extremely light accompaniment, making its presence known just what is needed to make the nicely developed vocality shine.
"S'apre la tomba" (Monteverdi) is another beautiful moment, letting all the dramaturgy of Sonya Yoncheva's vocal line shine, whose low notes shine with an ash-tinged sweetness. "Oblivion soave" is a moment of pure delight, in this beautifully mastered soprano version, both technically and in the interpretation – we will notice the last note held in a filato -, inviting to sleep. After all, isn't sleep the first step before the tumult of dreams and the rebirth that waking up is?
Among the many other beautiful experiences on the record, let us note that of "Come again, sweet love doth now invite", by the English composer John Dowland, absolutely beautiful and such as that one would believe to be an adaptation of a modern pop tune. The challenge of showing the contemporary character of baroque music is fully taken up here! The dynamic "No hay que decir el primor" follows, before ending listening to "Like an Angel Passing Through My Room". The music gradually hinted at the idea of a rebirth, a return to life after a dark universe and death, essential to rebirth just as much as destruction is to reconstruction. Here, the title echoes the Baroque era without hiatus, and opens the doors of a twilight, of "peaceful solitude", of a "present (which) throws itself into the past".
With infinite gentleness, our ears open towards renewal and a new possibility: that of the dawning day after night, of calm after the storm, of appeasement after chaos, of the brighter light to be born after the darkness. Here, listening ends on a note of hope, far from the feeling of darkness and melancholy at the start. So our journey is over, although without us realizing it.
On the libretto side, as a French listener and reader, we regret the lack of translation because the presentation text, long and interesting, aimed at explaining the history and the process at the origin of the recording, is not offered only in English and German. We nevertheless appreciate the presence of the lyrics – even if the only translation is English -, in a beautiful aesthetic presentation, soft and light.
With this fourth disc on Sony Classical, Sonya Yoncheva offers a superb palette of nuances, colors, souls and interpretations, in a (almost) initiatory journey carried by Leonardo García Alarcón and Cappella Mediterranea. The alliance of their talents appears here as the rainbow after the Flood, a sign of rebirth and hope for the future."
Elodie Martinez, Opera Online
"Sonya Yoncheva's latest CD is titled Rebirth and will be released by Sony Classical on March 12th. Connessi all'Opera has listened to the preview recording. Accompanied by the ensemble of original instruments Cappella Mediterranea, conducted by her friend and fellow student Leonardo García Alarcón, the Bulgarian soprano proposes a musical journey from the late 16th century to the present day, with pages by Claudio Monteverdi, Francesco Cavalli, Barbara Strozzi, John Dowland, Alessandro Stradella, Orlando Gibbons up to ABBA, seen through an antique lens.The album program was presented last August at the Salzburg Summer Festival in a concert event called Renaissance, a concept that will be replicated in a European tour that will start on April 6 in Sofia and then touch other cities, including Barcelona, Brussels and Geneva.
The manifesto of this recording project, held in the pipeline for about 10 years and only realized in 2020 – just during the first wave of the Covid-19 pandemic – is that of a hoped-for creative and humanistic rebirth, whose trigger is precisely the long period of silence and inactivity that characterized the ongoing pandemic. Not only that, Yoncheva's intent is to demonstrate the timeless beauty of 16th-17th century music, always current thanks to an irresistible mix of emotion, beauty and simplicity. Yoncheva is telling the truth, since in the last 10/15 years an increasing number of young people have come close to this once niche and now more popular music. (…) Rather, we can speak of a return to her roots for the singer, who regains an intimate dimension.
No doubt, one remains bewildered by Yoncheva's continuous jumps in repertoire, between Verismo and Baroque (…)… But we know that the singer likes to be unpredictable, constantly shuffling the cards and amaze her audience in the name of such sought-after versatility. (…) the soprano is at ease as because an intimate, contemplative and emotional dimension is well suited to a voice that is appreciated above all in ecstatic abandonments, or in sweet and sensual moments. The recording highlights other qualities such as the legato, the soft and fluid emission, in addition to the length of some breaths on which ethereal, silvery and sensual sounds float. (…) Undoubtedly, in each piece the soprano manages to create an atmosphere that does not leave the listener indifferent and in this sense Yoncheva manages to provide unity to what could otherwise be a real potpourri. (…) Monteverdi is an exception, with whom Yoncheva proves to have a precise theatrical vision.
The recording opens with "Queste lagrime e sospiri" from the oratorio San Giovanni Battista by Alessandro Stradella (1639-1682,) where Yoncheva begins with long breaths and delightfully velvety and spun sounds and then develops piece in a high register in a colorful and expressive manner. We move on to Xerse by Francesco Cavalli (1602-1643) with "Luci mie, voi che miraste", characterized by a tormented and grieving character: if the phrasing and the nuances are convincing (…) Two arias by Claudio Monteverdi (1567-1643), "S'apre la tomba" from Voglia di vita uscir and "Oblivion Soave", Arnalta's aria from L'incoronazione di Poppea: in the first the singer achieves a beautiful balance between music and text, while the second page has the soprano inviting Poppea to sleep with a sweet and reassuring song (see how she offers the phrase "Poppea, rimanti in pace"), concluding with a long messa di voce on the word "dormite" marvelously giving the idea of a peaceful rest.
(…)
In this journey into the European Baroque, the Hispanic component cannot be missing, present here with the piece "Ojos, pues me desdenáis" by José Marin (1619-1699), performed with interpretative transport. In the same vein but even more Hispanic in the sonority and in the rhythmic component, is "No hay que decirle el primor" by Tomás de Torrejón y Velazco (1644-1728) which sees Yoncheva bring out her most sanguine and passionate part, a pleasant interlude in a program where slow tunes abound. (…) On the other hand, Yoncheva did very well to insert a song from the Bulgarian folk tradition entitled "Zableyalo mi agance", written by an unknown composer: it is perhaps the most interesting piece of the recording. This is a sing-song style lament with oriental influences: the Bulgarian soprano is truly at home here and the interpretative transport appears honest and convincing with long melismatic filato and vocalizations upon a minimal instrumental base and with mysterious and melancholy tones. The musical performance is truly excellent and seems to evoke a voice that echoes in the desert sands. The program also includes an aria ("Y a tus plantas Nisea") composed by the conductor Leonardo García Alarcón, who in the past oversaw the musical reconstruction of the missing third act of El Prometeo, the work of the singer-composer Antonio Draghi (1634-1700) : Yoncheva sings with grace and lyrical abandon.
We previously talked about stylistic crossover; here the recording ends with a baroque / ancient version of ABBA's "Like an Angel Passing through my room". (…) Yoncheva remains within the confines of good taste and sets a tone in line with the rest of the recording, producing beautiful silvery tones and gently underlining the lyrics of the song.
Mediterranean Chapel provides excellent support to Yoncheva by creating an ideal instrumental base for the singer's suffering and melancholy abandonments. Thanks to prestigious musicians (both wind and string instruments), she excels in instrumental pieces, especially in Spanish Baroque or Latin music. Take for example the rhythmic "Tarantela española" by Santiago de Murcia (1673-1739) or "Pasaje del olvido" by the Venezuelan singer-songwriter Simón Díaz (1928-2014). The ensemble then explodes with vital Italian musicality in Monteverdi's "O rosetta, che rosetta SV 237" where the virtuoso intervention of the flute is noted. The nocturnal atmospheres of the Symphony from L'Egisto by Cavalli are also well rendered. Throughout the duration of the recording, Alarcón conducts from the harpsichord or organ with gusto and without much excess.
To conclude, this is a recording with a broad program that ranges between well-known arias, rarities and rearranged pop, straddling the intimate dimension and Mediterranean vitality, even if the first component clearly has a greater space. The recording is perhaps not for all tastes for the musical journey proposed here (and some purists of the Baroque will perhaps turn up their noses for the album's concept), but the execution (net of some distinctions on the stylistic choices) it is of a good standard and the interpreter is evidently inspired, being at ease in a music that suits her for performance possibilities."
Pietro Dall'Oglio, Connessi all'Opera
Wonderful reviews for Sonya Yoncheva's "Met Stars Live in Concert" recital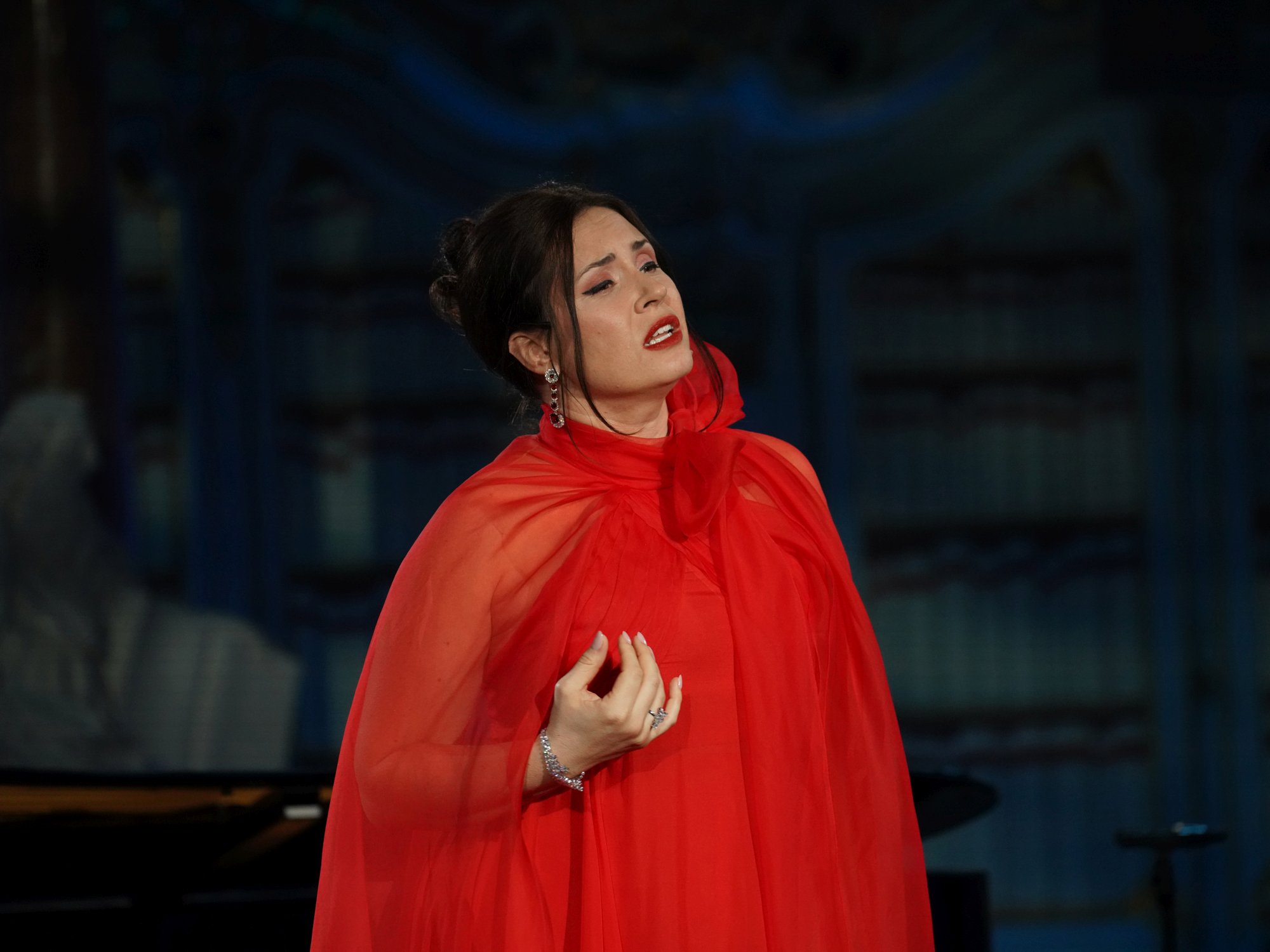 Rave reviews have come in for Sonya Yoncheva's Met Stars Live in Concert recital. On February 27, Sonya sang wide selection of arias for the Metropolitan Opera's streaming series from the Cloister Bad Schussenried in Germany. Here are a few short quotes of what the international press has to say:
"Extraordinary poise in both voice and presence, fully inhabiting each character."
Opera News
"The top soprano has a voice of a diva, sparkling, colorful, full of emotional depth. A world star in Upper Swabia: a great concert."
Südwest Presse
"Sonya Yoncheva reinforced her standing as one of the world's greatest divas in a technically brilliant and movingly intimate recital of popular arias."
Birmingham Press
"The recital with Yoncheva was a thoroughgoing delight. The singing was captivating and powerful while the accompaniment was uplifting."
Classical Music Daily
"For Met Stars Live in Concert, Sonya Yoncheva brings emotional significance to all her words and phrases"
Seen and Heard International
"For her recital in partnership with the Metropolitan Opera House in New York, Sonya Yoncheva offered a multifaceted evening (…) at the crossroads of several styles, eras and tessituras."
Ôlyrix
"A voice charged with emotion."
Forum Opéra
"The program sweeps across the breadth of what the Bulgarian soprano does best, which is to infuse interiority and theatricality into very different roles."
Opera Online
"The artist (…) had the opportunity to demonstrate that she could do almost anything, handling the most varied styles through a program spanning four centuries of music."
ConcertClassic
Complete press review in English:
202102 SYoncheva Met Stars Live in Concert EN