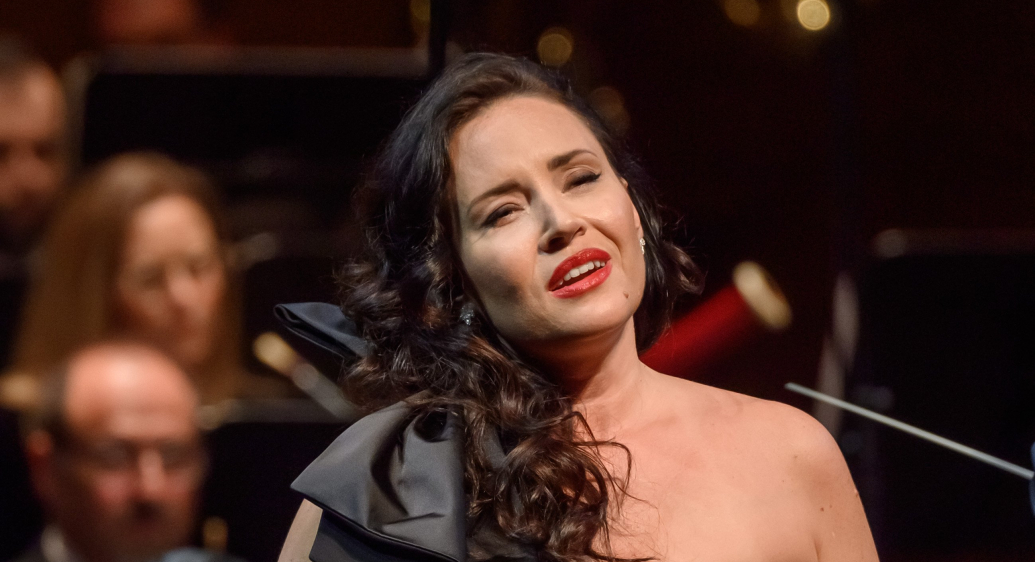 "Sonya Yoncheva triumphs in her debut at the Liceu"
Sonya Yoncheva has just made an acclaimed house debut at the Gran Teatre del Liceu, sending the audience into a frenzy with arias by Verdi and Puccini. Here are a couple of wonderful reviews about the evening:
"Sonya Yoncheva triumphs in her debut at the Liceu"
"The Bulgarian soprano appeared at the Liceu with a program dedicated to Verdi and Puccini"
Bulgarian soprano Sonya Yoncheva's Liceu debut has come about when this great singer, who first became known as a performer in the Baroque sphere to later dazzle with Mozart and bel canto operas, has shown sufficient vocal maturity to expand her repertoire towards Verdi, Puccini and even 'verismo' territory. Yoncheva, who in a few days will sing Giordano's 'Siberia' at the Teatro Real in Madrid, chose precisely, works by Verdi and Puccini to perform for the Liceu audience; already known in Barcelona, because she had already performed at the Palau, the Gran Teatre was preparing to experience a performance that could have become a love story. The soprano proposed demanding and popular arias, opening the program with the French version of Verdi's Elisabetta de Valois ('Don Carlos') and the aria "Toi qui sus le néant…", spoken with intensity and expressive phrasing. (…)
… a subtle and beautiful Puccini aria, "In quelle trine morbide" ('Manon Lescaut') in which her high notes and polished timbre shone, (…), a piece that preceded the trial by fire aria that is "Pace, pace, mio Dio!" ('La forza del Destino'), sung with expressiveness and good ideas.
Puccini reigned in the second part first with "Se come voi piccina io fossi" ('Le Villi'), before a final stretch that would take her for two acclaimed pages, the "Vissi d'arte" ('Tosca') and " Un bel dì vedremo" ('Butterfly').
As encores, the Habanera from 'Carmen' and the 'Babbino caro' were heard, in addition to the repetition of Manon Lescaut."
Pablo Meléndez-Haddad, El Periódico / La Nueva Espagna / Levante
"Six opera arias –eight, if those added outside the program are included in the calculation and this does not include the encore of "In quelle trine morbide"–with many peak moments and the support of an orchestra that excelled in well-chosen overtures and intermissions, they went a long way and offered a panorama that no opera can match. This time, Yoncheva came with everything. The artistic result was memorable. (…) Absolute musicality, phrasing of a richness that knows how to enhance the texts and a secure and in-tune high register were enough to send the audience into ecstasy, from the initial Don Carlos aria in the French original to the acclaimed "Un bel dì vedremo" at the end, going through a version of "Se come voi piccina io fossi" which aroused in the room an enthusiasm as unexpected as it was deserved.
Her concept of vocal sfumatura would definitely shine in the performance of Carmen added to the program even sympathetically making eyes with each other with the Maestro, and her "Babbino caro" was irresistible (…) Nayden Todorov had no qualms about emphasizing the great melodic expansions or the agitated rhythms – his Tregenda was fervently celebrated – to corroborate the current good level of the Symphony Orchestra of the Liceu. In any case, the spectator had heard in this case what he had come to hear. An excellent evening."
Marcelo Cervelló, Ópera Actual
[Photo: Tony Bofill / Gran Teatre del Liceu]